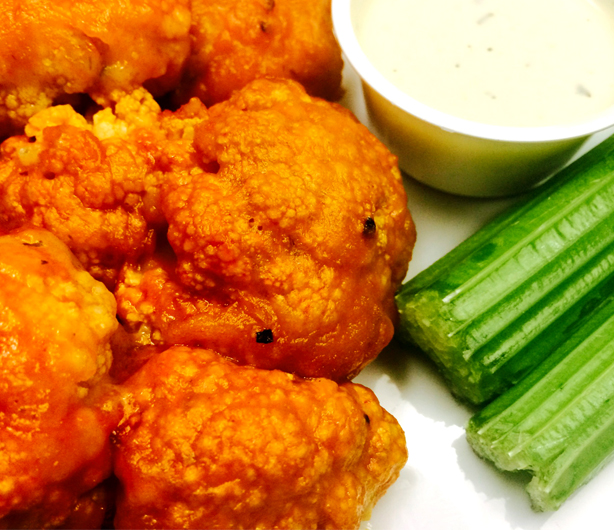 Try these hot & spicy cauliflower bites, lightly battered and baked with a spicy buffalo sauce.  A great 'after-dance-class' snack and just in time for March Madness!
TIP: If you're going to a party and trying to stay in shape for recital or competition season, bring along a healthy party food for everyone to enjoy. You'll be gauranteed something healthy to nosh on, and chances are others will be glad to see a healthy option too!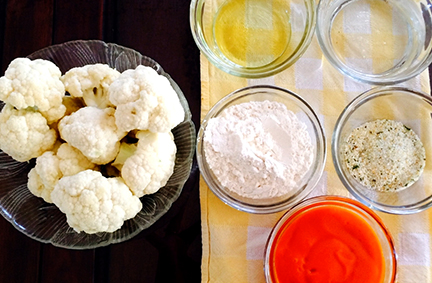 Ingredients:
½ a cauliflower; chopped into bite size pieces
½ cup of almond flour (or brown rice flour)
½ cup of water
2 tsp. of granulated garlic powder
1 tsp. salt
2 tsp. olive oil or coconut oil
1 cup of buffalo or hot sauce
Instructions
•   Preheat the oven to 450°F.
•   Combine the water, flour, and garlic powder in a bowl and stir until well combined.
•   Coat the cauliflower pieces with the corn meal mixture and place in shallow baking dish. Bake for 18 minutes.
•   While the cauliflower is baking, combine your buffalo sauce and olive oil in a small bowl.
•   Pour the hot sauce mixture over the baked cauliflower and continue baking for an additional 4 to 6 minutes.
For dipping you can always create a healthier version of Ranch. Use 1 tbs. of nonfat plain Greek yogurt and 3 tsp. of your favorite ranch mix. Mix well and chill before serving.
Prep Time: 5 minutes
Cook Time:  25 minutes
Total Time: 30 minutes