Hi Dancers! Today I'm doing something a little more on the crafty side than my typical posts. It is my favorite time of year…Nutcracker season! I know we've all done it and seen it a hundred times, but it never loses its luster for me. To jump start the season, I just did a really fun video on our DDS YouTube page where I decorated four pairs of pointe shoes inspired by four Nutcracker characters. These would be great to make for a photo shoot or performance. Though some were easier to dance in than others, they all photographed beautifully!

Using Clara, Spanish Hot Chocolate, Arabian Coffee, and Sugar Plum Fairy (of course), for my inspiration, I hit the craft store and I hit it hard. I wanted to find some central pieces for each pair of shoes to really make them POP.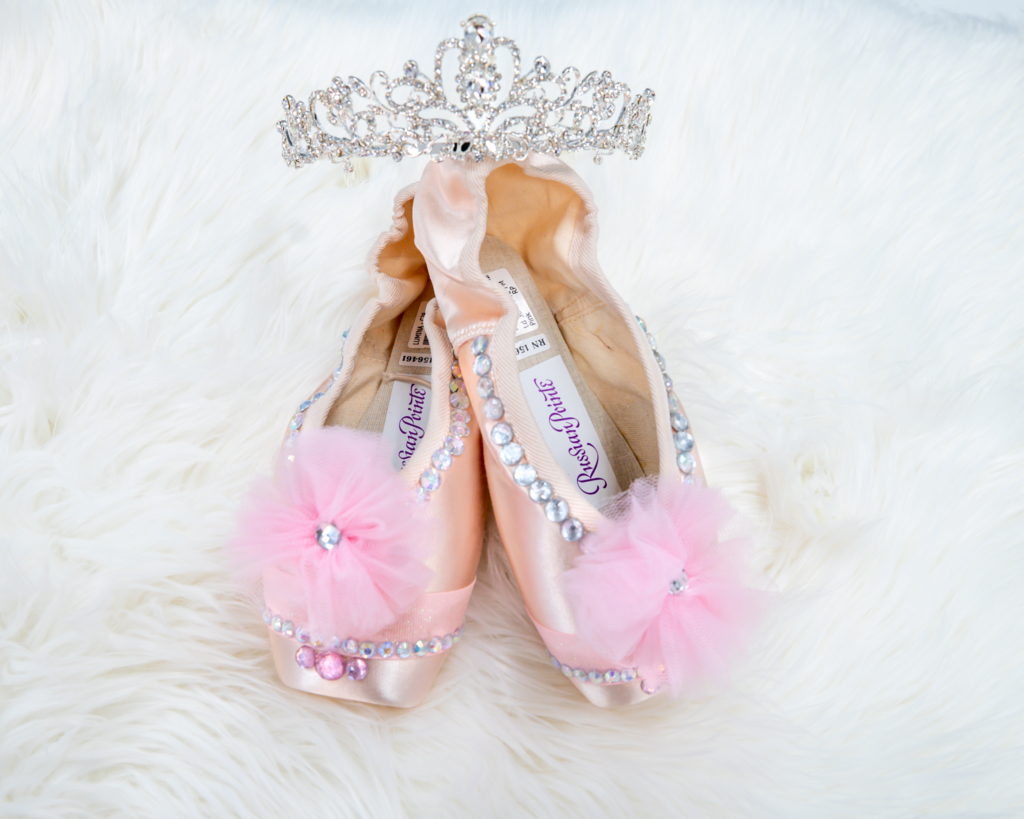 I thought Clara's shoes should be sweet and innocent. I found some soft pink tulle flowers that became the main focus of those shoes. The Clara shoes were also the only pair I didn't paint. The ballet pink of the satin was perfect as is. Throw in some pink ribbon and some rhinestones and you've got yourself a dreamy pair of Clara pointe shoes.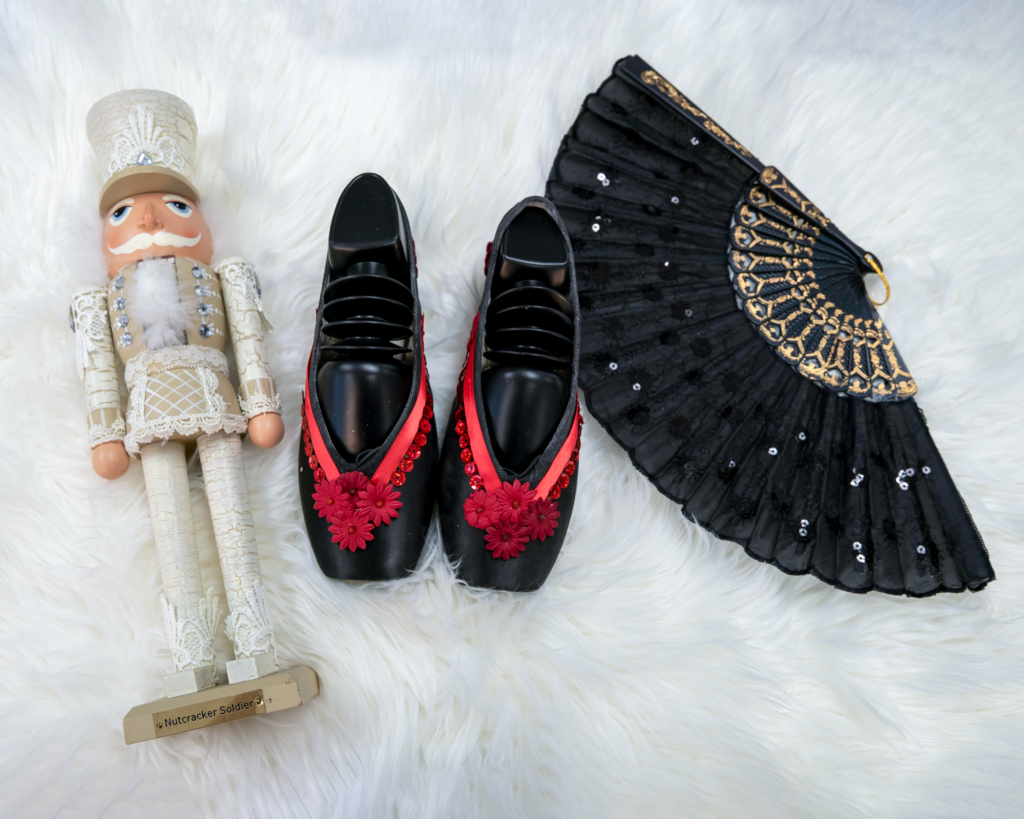 Next was Spanish Hot Chocolate. I danced this variation many times in my day and it is one of my favorites. I painted these shoes black using Pointe Paint by Pointe People. In my mind, these costumes are always black and red, so I found some cute red rosettes that I glued in clusters around the shoe as well as some red sequins and red ribbon.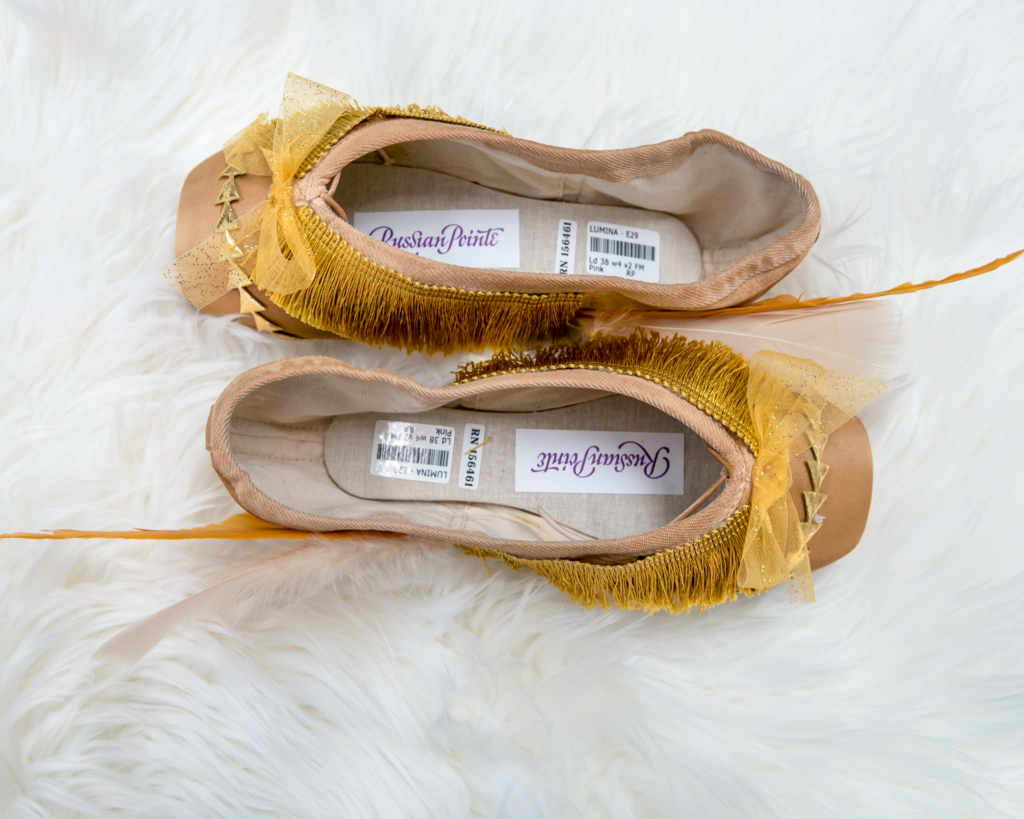 Now, on to Arabian Coffee. This is another that I danced and it is such a fun one. I think this may have my favorite music of all the Land of Sweets variations. I painted these shoes using the Honey color Pointe Paint. I wanted these to be really unique so I added some gold fringe and some feathers. These were probably the most difficult to dance in, but they looked so cool!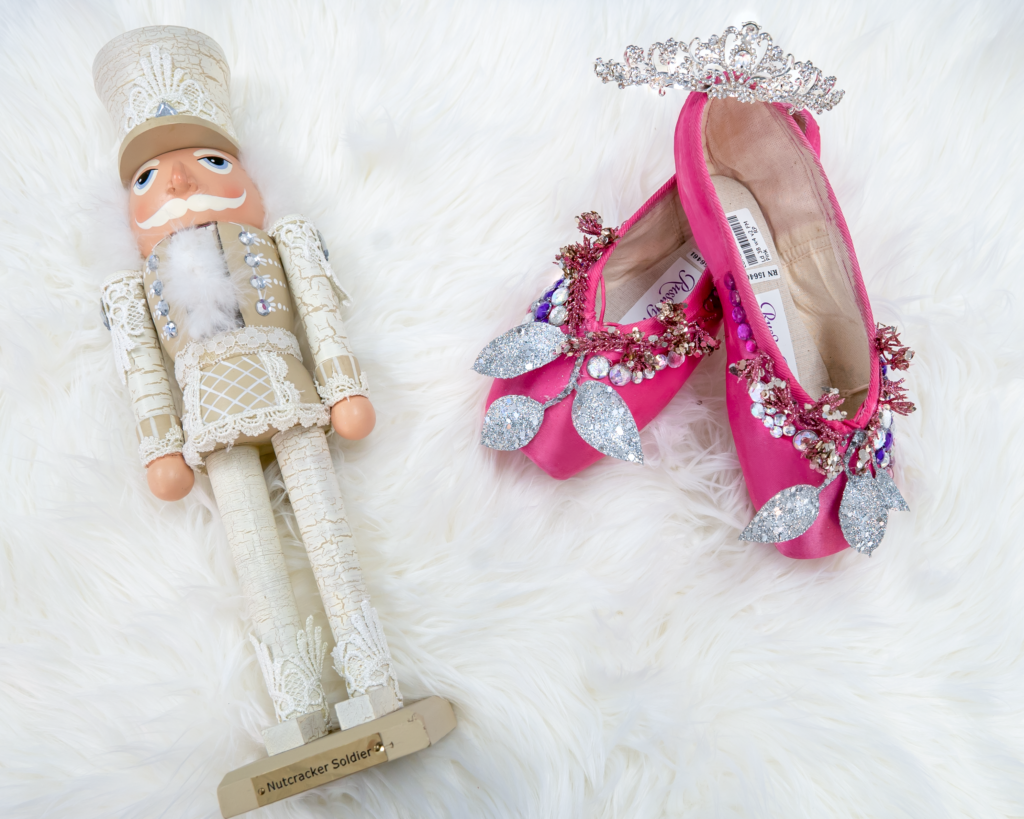 For the finale, I couldn't forget the most iconic Nutcracker character: Sugar Plum Fairy. I wanted to go all out on these shoes. My thought process: bejewel them as much as possible while still making the shoe wearable.
I don't know about you, but I'm an E6000 girl when it comes to gluing rhinestones and it did not let me down. I had clear, pink, and purple stones as well as some pink and silver sparkly garland that I cut in to small pieces to use on the vamp of the shoes.
Check out the YouTube video to watch the full process and see them in action on a dancer. If you decorate any pointe shoes, send me a picture!

As always, Happy Dancing and Happy Nutcracker Season