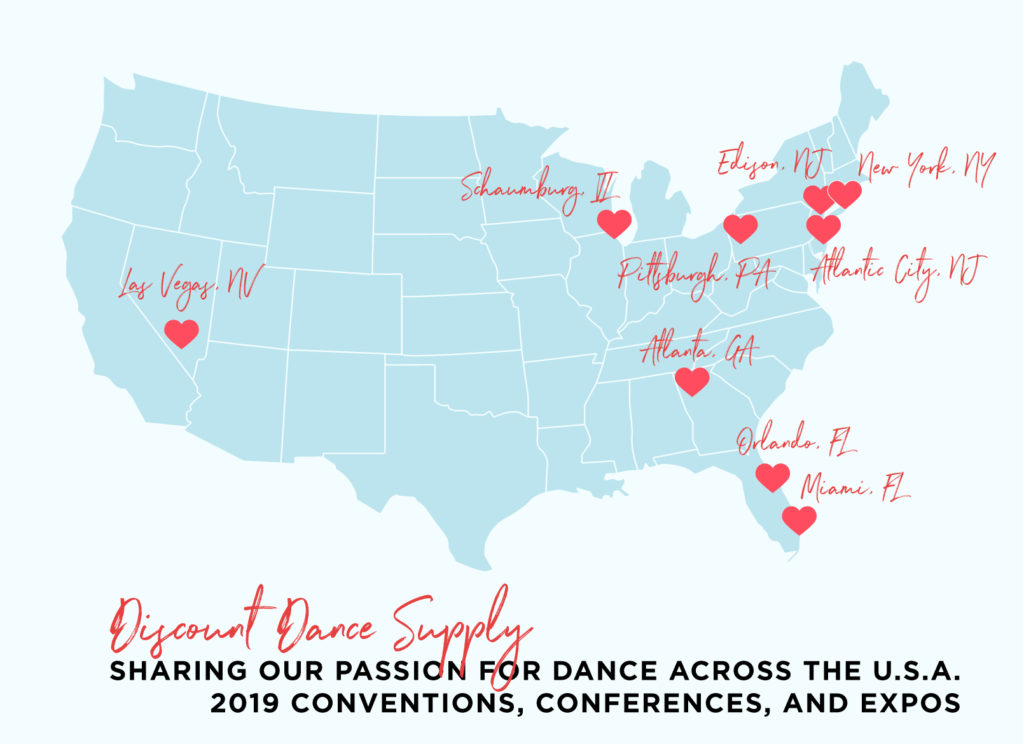 Discount Dance Supply is hitting the road to meet teachers, coaches, and studio owners across America! Between June and October, your VIP account representatives will be at 10 of the biggest dance conventions, conferences, and expos in the country.
Here's your chance to interact with DDS up close and personal.

We hope you'll say hello to see all the fabulous new products and offers we have coming up for the season. When you stop by the Discount Dance booth, you'll get an adorable free t-shirt. Plus, you'll get $50 when you schedule an appointment where we can chat about a personalized plan for dancewear at your studio. And, you'll get to meet the smiling faces of all your favorite VIP reps.
This year we'd love to show you awesome new additions to our classwear, tights, and shoe collections. We'll also be showing a huge expansion to the costume collection.
You'll also be able to register for our Dance Teacher Program right on the spot! The Dance Teacher Program by Discount Dance Supply is the best way to help save you money and grow your business. Knowledgeable staff will be on hand to answer any questions you may have and share the secrets of using the Dance Teacher Program to its full potential.
We love meeting teacher customers face to face, and your feedback at these shows is invaluable. This year we've been conducting teacher focus groups in hubs across the U.S., and we are so excited to be bringing you more of the products and perks you told us you need this year.
Take a peek at the schedule, and let us know what conferences you'll be attending! See you soon.