A Chat with #BopoBallerina Colleen Werner
When she was a baby, Colleen Werner understood dance as nothing but a feeling of joy and positivity. One of her favorite things to do was to put on her tutus and dance around the house. Naturally, Colleen's mom decided to enroll her in her first dance class at the age of 3. But as Colleen got older, her love for dance began to change. For 10 years, Colleen struggled with an eating disorder, something that warped her relationship with dance and herself. "Dance became something that was about compensation and changing my body, rather than something that should be about the beauty of art," Colleen explained.
After feeling like the dance industry was doing nothing but letting her down, Colleen decided it was time to take a break. She stopped dancing and took the initiative to begin her journey of recovery. About a year into it, Colleen created a body positive campaign on her social media account. "When I was growing up the dance world, I never saw dancers that looked like me in magazines or in professional companies," she said, "I wanted to create a platform for dancers like me who have larger bodies, where we could feel celebrated and represented." She used #BopoBallerina (body-positive ballerina) to spread her word. Currently, the hashtag has been used on over one thousand posts.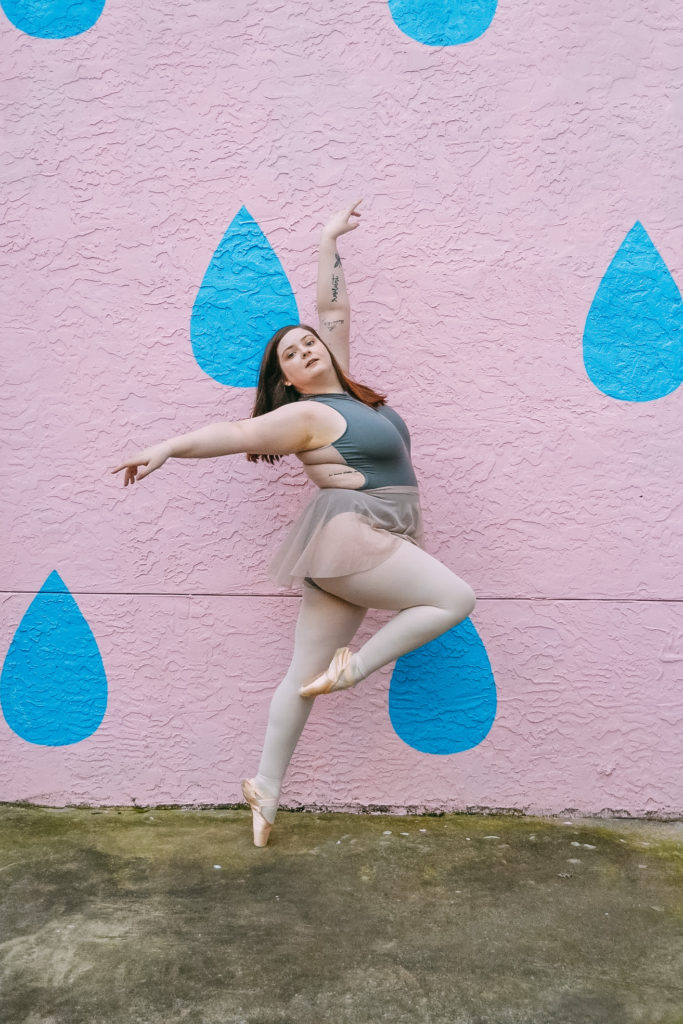 Discount Dance: Thank you for talking with us about your journey. As amazing as the dance world can be, we realize that there is a lot of stigma on "how a dancer should look". What advice do you have for dancers trying to overcome any judgement?
Colleen Werner: One of the biggest things for me has been finding dance environments that are accepting of all. The 2 studios I currently train at, Nashville's Ballet Community Division and The Dancer Project, are so accepting regardless of backgrounds or what you look like. Another really important thing is to work on the judgement we place on ourselves. The work I've done in therapy has helped me change any view around myself.
DD: What can dancers do to create a more open and accepting environment?
CW: Be consciously warm and friendly towards newcomers. Go up to them and let them you're glad they're there, it can make a huge difference. Another important thing is to use language that is inclusive and makes everyone feel welcome, especially if you're a teacher or studio owner. Any comments about a dancer's body should only be regarding to their technique.
DD: What does dance mean to you?
CW: Now that I've recovered, I've been able to reclaim dance and it's now a beautiful form of self-expression and truly makes me feel at home in my body. When I'm in the studio, I now feel my most authentic self.
DD: What made you want to start your movement on Instagram?
CW: So much of it started as an internal, personal journey. I needed a space where I could feel healthy and represented. Since I couldn't find this anywhere at first, I decided to create it for myself! Seeing people not just accept but celebrate dancers in ALL types of bodies is incredible. From people who are growing up in the dance world, to professionals, to adult dancers — it's so heartwarming to see people committed to inclusivity.
DD: What achievements are you most proud of?
CW: So many things.I'm so proud of myself for getting back on stage again. This past December I had my first ballet performance back after not performing ballet since 2015. Being able to maintain my eating disorder recovery while dancing is another. I thought that dance would always be a trigger for me, and the fact that it no longer triggers me is really a testament to the hard work I've done in recovery. I'm also incredibly proud of the articles about my work that has been published. And lastly, becoming a Discount Dance Brand Ambassador!
DD: What plans do you have for the future?
CW: I plan on continuing to train and perform for as long as I can, hopefully even into my 80s! In the near future I will also be attending an intensive training in a form of therapy called Radically Open Dialectical Behavior Therapy, it's specifically for people who struggle with over control (think perfectionistic, overly disciplined — aka many dancers), and I think it will be really helpful for my future therapy clients who are dancers. Lastly, this fall I'll start my clinical internship, so I'm very excited and grateful that I'll be able to start offering services to people who are struggling with their mental health.
DD: Are there any important resources you'd like to share with any dancers struggling with body or mental health issues?
CW: National Eating Disorders Association. They have a free eating disorder screening on their website, as well as resources for people who are struggling, and a directory of therapists, doctors, and dietitians who specialize in treating eating disorders and body image issues. Another resource is my Instagram page, @colleenmwerner! I share a lot of mental health related content that many dancers have found helpful and relatable.
DD: Besides anything I asked, is there anything you'd like to mention or talk about?
CW: I really hope that brands, companies, and schools continue getting more inclusive of dancers of all body types — while there has been a lot of progress that should be celebrated, more work needs to be done.