Way back in 2011, Discount Dance sat down with New York City Ballet Principal, Ashley Bouder. Topics included how she got interested in ballet, how she keeps her dancing fresh for every performance and what keeps her motivated and her love of ballet strong. In addition to the interview, Ashley also shot at this amazing video with So You Think You Can Dance all-star, Stephen "tWitch" Boss.
The video was entitled "Freestyle Vs. Ballet," but it was really a study in the the two artforms colliding and entertwining. In fact, although the idea was fairly new at the time, the mix of ballet and hip hop in the video should be very familiar to any dance-fan who watches SYTYCD or Dancing With The Stars. Nowadays it goes without saying that genres can be mixed, mashed and overlapped. There are no lines between genres that haven't been blurred. It is an idea general dance audiences have become accustomed to seeing.
[youtube id="jHNBPhCXn9Q" width="620″ height="360″]
Here we are almost three years later and Discount Dance (and the world) are just as entranced with Ashley as ever! She is influencing a whole new generation of dancers, such as fellow Discount Dance model and YAGP gold medalist, Juliet Doherty.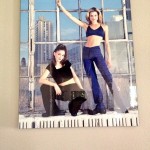 Recently, Juliet was in the Discount Dance headquarters for a photo shoot and she tweeted a photo of an image from Ashley's very first Discount Dance photo shoot!
At the time Ashley was around 13 years old and had just begun studying at the School of Amercian Ballet (SAB). Can you believe that ponytail! If you're over the age of 25, like, ahem, a certain Dance Life writer, this should take you right back to those late '90s glory days!
Shortly after her debut at Discount Dance, Ashley was named an apprentice with NYCB in June 2000. She quickly rose through the ranks, becoming a member of the corps de ballet that October.
Five years after her first shoot, and sans ponytail, Ashley was still modeling for Discount Dance. She graced the Fall 2004 cover with fellow NYCB dancer, Aaron Severini not long after she was promoted to Soloist in February of the same year.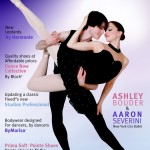 Just under a year later, in January of 2005, Ashley was promoted to Principal and in that role today; still dancing with the New York City Ballet.
Ashley can still be seen modeling many styles on discountdance.com and her Winter 2011 Discount Dance catalog cover is one of our most iconic covers to date.