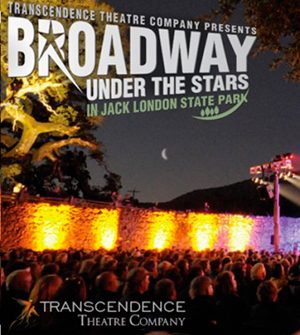 Greetings – friends of dance. Glad you could join us. Last time, we brought you the fascinating story behind Sonoma Wine Country's Transcendence Theatre Company (TTC). Today's follow-up piece uncovers what drives TTC's resonating effect on audiences; and concludes with some invaluable insights and extras for the aspiring and Broadway-bound.
First order of business is to convey our literal play on words: "Vintage Broadway" – a mere inception of convenience, to describe TTC's distinctive production concept in short – live Broadway performed amidst a wine country backdrop. In these modern times when even the world's most prominent arts organizations have struggled to survive, how such an elaborate new concept turned reality is truly remarkable.
Much to TTC's advantage, arts enthusiasts in Northern California are abundant. One region where resident professional, performing arts organizations are in short supply however, is San Francisco's North Bay. While location plays a crucial part in TTC's good fortune, the same result under any other group of artists would be unlikely, as TTC's founding members are a rare bunch – they are a team of six like-minded, accomplished artists sharing a common vision, with equal determination in seeing their endeavor through.
When TTC introduced their production series "Broadway Under the Stars" to audiences in 2012, not only was it an instant smash, but its impact on the community at large helped position the region as more than a wine and cheese destination.
More sold-out programs and rave reviews made TTC's second annual season (which wrapped up in late August 2013) another good, vintage Broadway year. Programs that dazzled included: the all dance inspired production "Dancing Through Life" featuring song and dance from "Chicago," "Crazy For You," and "A Chorus Line;" the one night only "Evening w/Sutton Foster" featuring the two-time Tony Award winner/star of the ABC Family-TV series "Bunheads;" and the "one – singular sensation," tap dancer/Celtic fiddler Stephanie Cadman – who returned with her musical trio for an encore performance, after being named TTC's "Audience Favorite" in 2012.
Planning such an elaborate performance series may not sound like a picnic in the park for event organizers, but that's precisely what it is for spectators. Inside the stunning, old century winery ruins of Jack London State Park, spectators can enjoy pre-show picnicking with entertainment, and taste the luscious fruit of the land offered by a collection of Sonoma wineries who partake in each event.
Currently, TTC is busy at work setting the stage for the summer 2014 season. The latest news from the source is – expect lots more dance, as the crowds here love it. Though TTC's program for next season has yet to be officially announced, here's what we know:
Broadway Under The Stars 2014/Season 3
One Singular Sensation:  June 27-29; July 2, 3, and 5 (all dance program)
Fantastical Family Night:  July 25 & 26
The Music of the Night:  August 14-16, 22-24
Gala Celebration:  September 5 & 6
Off-stage, TTC's presence is every bit as impressive. Their popular summer workshop Broadway Kids Camp has reached capacity for two consecutive years. The program serves as an invaluable outlet for youth age 8-18 wishing to explore their inner talent(s). Open to all experience levels, students have an opportunity to train with the pros during a week-long, mid-summer workshop that includes instruction in acting, improvisation, vocal performance, jazz, tap, and ballet. Creative thinking exercises include detailed sketch writing and journaling based on daily themes.
Leading the Jack London Broadway Kids Camp is TTC founding artist/director of educational programing Leah Sprecher – whose stage experience includes "Sweet Charity," "Cats," "Happy Days," and the "Radiocity Christmas Spectacular" featuring the Rockettes.
 TTC artistic director/CEO Amy Miller describes the programs objectives: "Transcendence Theatre focusses on creating a nurturing, supportive, and non-competitive environment that inspires and empowers all of our artists to grow to their full potential as artists and human beings."
 Insights & Extras
Interested participants in 2014 camp activities are advised to check TTC's Kids Camp web page regularly for registration announcements.
Professionals – should you be interested in future casting opportunities, you are encouraged to submit headshots, resumes, and video links with performance footage year-round. Email: [email protected]
Offsite classes taught by TTC's resident and guest artists are also available:
Robert Petrarca, artistic director, Golden Performing Arts Center, Los Angeles Vicinity
Rachel Thomas and Tinuke Oyefule, dance instructors, Creation Station, Los Angeles Vicinity
Kurt Domoney, coach/counselor, Musical Theatre College Auditions, New York City / youth dance instructor, Front & Center for Performing Arts, Springfield, New Jersey
Until next time. Live. Dance. And Prosper.