We are so excited to share a little bit about our YAGP Model Search Winner of 2016: Marina Halama!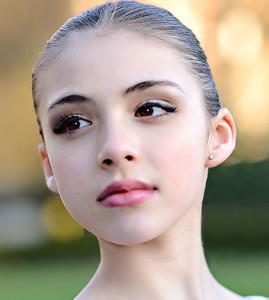 We asked her a few questions and here is what she had to say:
1. Tell us about yourself:
Hi, I'm Marina Halama. I just turned 13 and I live in Long Grove, IL.  I have a little sister, Sienna and a puppy (Goldendoodle) named Ollie. I'm in 8th grade and this is my first year of online school.
2. How old were you when you started taking dance classes?
I started taking dance lessons at 3 years old.  Mommy and me classes through the Chicago Park District.  I took ballet for a few years and then became more interested in jazz and hip hop (which is funny because I am so not a hip hop dancer now).  I started to become more serious in ballet at the age of 8.  I performed in my first Nutcracker that year and just loved being on stage.
 3. How many hours of training do you do each week?    
I typically train between 25-30 hours a week depending on YAGP and Nutcracker rehearsals.
4. Describe the feeling at your first dance competition?
My first ballet competition was when I was 11.  Backstage, I was really nervous, but I love performing, so I was also very excited!!  I have 2 years of competition experience and in addition to YAGP, I have done WBC and VKIBC.  The 2017 season will be my 3rd time.  I was fortunate to make it the NYC finals both as an 11 and 12 year old, so my goal is to make it back to NY this year!
 5. What has YAGP done for you as a dancer?
YAGP helped me so much grow as a dancer and to really understand what a career as a dancer looks like.  The first year, I loved it but didn't think I could make it as a professional dancer.  After YAGP Indianapolis, I knew that other people believed in me, as well as my coaches and my family. It gave me confidence in my dream.  I grew dramatically as a dancer that year, the improvement was amazing.  YAGP gives so many young dancers access to wonderful opportunities.  It's such a great family to be a part of!
 6. Where do you see yourself in 5 years?
In five years, I would love to be dancing for a major ballet company! <3
 7. What do you like to do for fun with family and friends?
When I'm not at dance, I love swimming, camping, interior design, spending time with family and friends.  I have a mini studio in my basement with Marley, so during sleepovers we dance and put on our own plays or competitions.
8. What are 3 things that you couldn't live without?
I couldn't live without my family – they enable me to follow my dreams and I am forever grateful for that!  I also couldn't live without my coaches, my role models and the art of ballet.  I'm so lucky to have found my passion for dance early in life.  Lastly, I couldn't live without my puppy, Ollie.  He's so cute and such a great addition to our family!
9. Congratulations on winning the model search! How did you enjoy the process and what was it like when you found out that you won?
The model search was awesome! I feel it was fair with it being decided by the number of votes. When I found out, I was so happy.  I started screaming and jumping around.  I was at Physical Therapy and almost done when my mom read the email.  I jumped off the table and started jumping around like a jumping bean.  My PT, thankfully, had voted every day for me, so he knew exactly why I was so excited!
Follow Marina Halama on Instagram @marinahalama!