As dancers, we spend a majority of our time in dance and athletic wear. My closet is filled with just as many leggings, sweatshirts, and leotards as it is dresses, jeans, and skirts. As someone who prioritizes both comfort and and style, I sometimes find it difficult to find a healthy balance between dancer and "normal" attire. While there's nothing I love more than throwing on clothes that are more akin to pajamas than anything else and heading to rehearsal, sometimes I miss getting dressed up and looking like a put-together human being. But as any New Yorker will tell you, more often than not there's no time to run home and change in between work and a dance class. After spending far too long schlepping an extra change of clothes with me up and down the streets of New York, I've perfected a few styling tricks to transform my dance clothes from the studio to the street. With just a few adjustments, your dancewear can take you straight from your Saturday morning ballet class to brunch with friends without any major quick changes.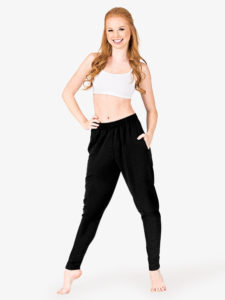 Now that athleisure is becoming more and more popular, harem pants are my go-to because of their versatility–their looseness makes them comfortable to dance in, while simultaneously being a chic way to pull an outfit together. You can easily dress them up or down depending on what kind of mood you're in. These harem pants are a favorite of mine: they're incredibly soft, have pockets, and come in black, charcoal gray, and even burgundy if you feel like rocking a pop of color. Personally I love to pair them with a pair of sneakers for the perfect balance of cool and casual. To upgrade the outfit to one more suited for meeting up with a coffee date, simply throw on a black leather jacket or even a scarf, weather permitting.
Another staple in my closet is black leggings. Some people are strongly against wearing leggings as pants in public, but I for one am an avid supporter. Love them or hate them, you can't deny the endless styling possibilities and there are so many fun designs out there with unique details. I love this mesh pair, watercolor pair,and metallic pair—all of which can easily be worn in and out of the studio. One of my fool-proof outfits when I'm heading from a dance class to meet up with friends at the park is a fitted tank or graphic t-shirt and leggings, with a button up shirt layered on top or tied around my waist. To take it up a notch, trade out your sneakers for ankle boots and you're all set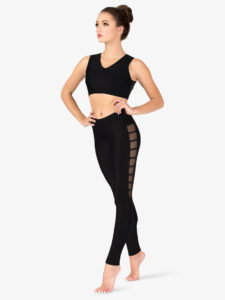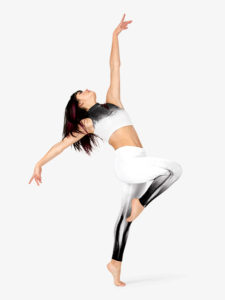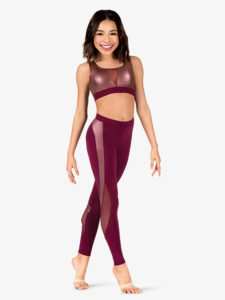 Your dance wardrobe can be utilized for more than just daytime though. My secret outfit weapon for a night out with friends is a leotard. It may sound a bit odd to wear a leotard anywhere other than at the ballet barre, but with the bodysuit trend taking over it's an easy way to get multiple uses out of your leotard collection. I remember one night I was getting ready to meet up with friends and I must have tried on at least a dozen different outfits but I just wasn't satisfied with anything. Everything in my closet was in my laundry hamper, and I was already running late. With no time to spare, I decided to throw on one of my favorite leotards under a leather skirt as a last-minute hail-mary. That night all of my friends complimented me on how unique my outfit was and no less than three complete strangers asked me where I bought my outfit. Now I use this trick all of the time and I will never buy another bodysuit again. Next time you're struggling to find something nice to wear, consider layering this, this, or this leotard under a pair of high waisted black jeans or your favorite skirt. Then just sit back and relax and wait for the compliments to roll in!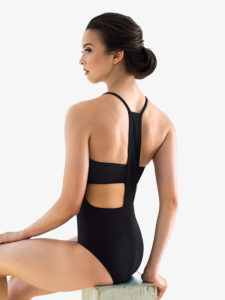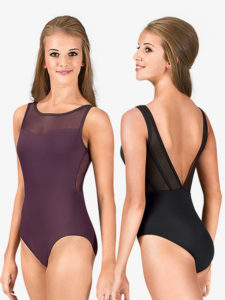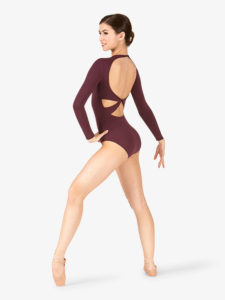 How do your dance clothes play double duty in your day-to-day wardrobe? Do you have a go-to outfit for when you're running from rehearsal to meet up with a friend? Let us know in the comments!