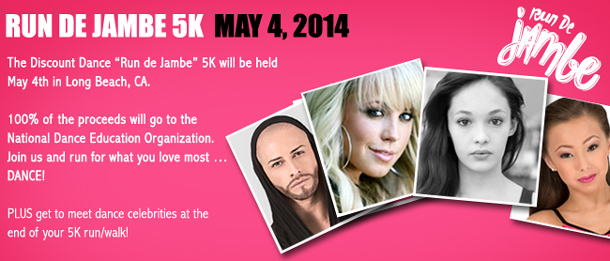 What better way to celebrate National Dance Week, than with an event to support the National Dance Education Organization? On May 4, 2014, Discount Dance Supply is hosting our first EVER 5K "Run de Jambe" charity run/walk to support the NDEO.
The NDEO is a non-profit organization with a vision of bringing dance arts education to the entire country. They promote equal access to quality dance education for all genders, races, ages, cultures, income and ability. We think that's a pretty great vision. Discount Dance Supply is a company full of dancers and dance enthusiasts, myself included.
I personally was a "late dancer," having never been exposed to dance when I was a kid. My family was not what you would call financially stable; it was hard to have dinner on the table, never mind pay for ballet classes. I didn't even know that such a thing as musical theatre existed until I was in junior high. A friend invited me to watch an older sibling's high school debut and it blew my mind!
When I was in college, and in charge of my own finances, I actively sought out dance classes and I've been a true believer ever since.
I think back to those days and wonder what could have been if I had started ballet at 11 years old instead of 20, when all my bones where done forming. I can't imagine my life without dance and it breaks my heart to think of kids now who have no idea the joy and enrichment dance can bring to their lives. That is what is so exciting about the partnership between Discount Dance Supply and the NDEO!
I feel lucky and proud to be part of a company that celebrates and supports the dance community. It's amazing that we get to be a part of supporting such an important organization as the NDEO. Now you have a chance to support dance education too, when you join the Run de Jambe!
Oh yeah, and there will be tons of fun and a chance to rub elbows with some of your favorite dance celebrities during a meet and greet after the run/walk: Juliet Doherty, Chelsea Hightower, Brian Friedman and Sophia Lucia!
If you live in the area I hope we'll see you there on May 4th! Whether you put on your favorite tutu and join the 5K or just come hang out and cheer people on.
You can follow all our Run de Jambe updates on Facebook, Instagram and Twitter.