Back to school means back to dance, and geek is the new chic for dance class! It's a no-brainer that dancers who understand dance history and dance vocab will always have an edge over those less informed dancers. Nerd is the word! So, why not enhance their knowledge and make learning FUN!?
We have some oh-so-geek-chic ideas of how you can level-up your dancers' learning in a fun and engaging way!
Word Search Wal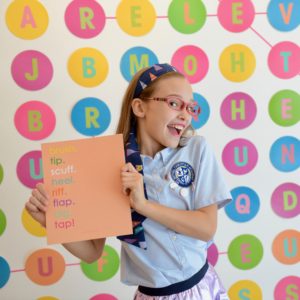 l and FREE Printable
Create a fun Word Search Wall in your studio with hidden dance vocab words. To create our 10×10 letter word search, we purchased colorful pre-cut circles and large letter stickers, but you can be creative and add your own flair! We've done the hard part for you by fitting the words into the pattern already (see FREE printable below)! All you need to do is create the same letters and hang them up! BONUS TIP: As you create each letter, label the back with it's position so you'll know where it goes if they accidentally get out of order (ex. Row 1, Col 2). This saved us several times when things got a little out of whack!
We're including a fun FREE printable of the word search pictured here for two purposes. First, it gives you the layout of the puzzle for creating your Word search wall. And, second, you can print them out for your younger dancers to reinforce the dance terminology!
Click here to download your FREE printable! 
Flashie Card Showdown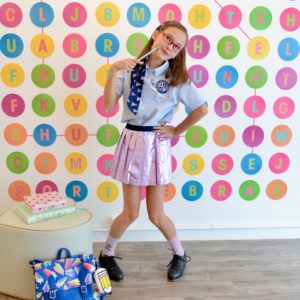 Whether you own a set of dance-focused flash cards like Twirl Flashie Cards, or choose to create your own flash cards, these are great for quizzing your dancers in a fun speed round! You can call it the Flashie Card Showdown! Break your class into two teams. Hold up a one Flashie Card of your choice, and the team who first shouts out the correct dance step receives a point. Then, someone from their team must correctly demonstrate the step on the Card, receiving another point for correct technique. Next, the whole class can do the dance
step together. The team with the most points at the end of the game is the winner!
If you want to keep things simple without a game and point system, you can simply hold up one Flashie Card at a time as the class demonstrates each step while reciting the name of the step and even what it means. There are so many fun ways to use these cards to grow your dancers' knowledge around dance terminology.
Dance His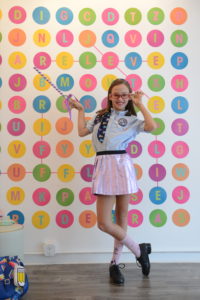 tory 101
These days, our youngest dancers tend to know more about Elsa, Belle and Moana than they do about even the most iconic dancers who have greatly influenced and impacted our dance world. Why not take some extra time to school your kids on some of icons from our industry during dance class!? From Ginger Rogers, Fred Astaire to Debbie Reynolds, from Savion Glover to Misty Copeland, from Janet Jackson to Paula Abdul, there are so many genres and legends. You can start by giving them background on the dancer, a few fun facts about their dance life and then focus a portion of your class around the dance style he or she is known for! Make sure you have fun with the music, too!
Whether you're having fun with dance history or dance vocabulary, the point is to help your dancers find their inner geek and #makedancefun at the same time! And, when those two things are happening together, geek definitely becomes chic!