We loved sitting down and chatting with Ashley Lew (one of our models and our brand new Brand Ambassador) about her recent experience at the Royal Ballet School!
Hi Ashley! Can you tell us a little bit about yourself and how were you able to attend the Royal Ballet School?
Hi! My name is Ashley Lew, and I am 12 years old. I am so excited to be one of the new Discount Dance Brand Ambassadors! I have been dancing since I was 3 years old. One of my dreams has been to train at the Royal Ballet School in London. It is one of the best ballet schools in the world, and recently, my dream came true! I was invited to spend a week at White Lodge where dancers my age train to become ballerinas.
What did you first see when you entered White Lodge?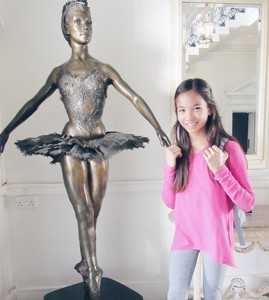 When I arrived at the Royal Ballet School in White Lodge, I saw a brass statue of Margot Fonteyn. One of her fingers is extra shiny because everyone who passes by touches it for good luck. Of course, I did too!

One of the house moms quickly greeted me and before I knew it, all the welcoming faces of the students surrounded me.  There were 12 girls in my level. I instantly fell in love with the school and felt at home. I learned that there were several house moms that were in charge of putting everyone to bed and waking us all up for breakfast. They also did our laundry and took great care of us. One house mom even took time to tuck everyone in at night.  Another house mom made me fridge cake! (A fridge cake is like a brownie mixed with a cake, but not so cakey or fudgie.) It was delicious!
What was your schedule like?
Our morning starts with breakfast around 7:00 am, followed by two and a half hours of school, two hours of ballet, and lunch. Then, two additional hours of school, Repertoire, Irish or Character class, dinner, prep (homework), and then we finally end the night with tea and biscuits. Bedtime is around nine fifteen every night, although, there may have been a few giggles before falling asleep. Shh, don't tell!
What was ballet class like?
Ballet class starts with a warm up using a yoga mat.  We worked on our feet (metatarsals), core, and back muscles. After, we jogged in a circle to help every part of our body warm up.  Barre work was next. You might be surprised, but there were no mirrors in the classroom! This actually helped me focus on my artistry.  Since there are only 12 girls in the class, I felt that everyone received equal attention and corrections. I especially loved that everyone dressed the same. From head to toe, everyone looked perfect!!
What is one thing you will always remember about the Royal Ballet School?
I will always remember how sweet and kind everyone was. I also loved learning new techniques and a new style of ballet. I am so grateful I had this experience and I hope to visit again!