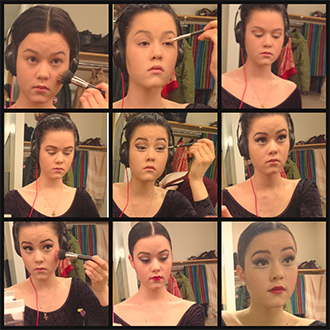 Stage makeup is a delicate and individual art form in itself. I find that doing your own makeup is important, unless it is a specialized character role. Everyone personally knows his or her face the best, so you know what suits you. Although it's a personal thing, through years of practice I have found a few universal tips that will benefit everyone.
First, the base foundation should be slightly lighter than your actual skin tone. Of course you don't want to make yourself appear as a ghost or wearing a mask, but I think that having a bright face really shows on stage.
Another thing that I can't do without is my MAC eye shadow primer. MAC cosmetics sponsors National Ballet of Canada, so all of my makeup is from MAC. I swipe on a layer of the neutral primer before I apply my eye shadow to ensure long wear and no creasing. Since I like to use different colors and shadings of eye shadow, the primer comes in handy to keep the colors from blending too much or sweating off.
Lipstick is one of my favorite things. Although dark berry lips are currently very in when it comes to street style, it doesn't always translate to the stage. Depending on the role or your coloring, it could seem like a dark hole on your face and should be avoided in most cases. Generally, a cherry lip with slight orange hues does the trick.
One thing that most people struggle with is applying false lashes. For many people, it seems like a daunting task and some dancers avoid it all together, but I think that false eyelashes complete the stage makeup look. Before setting my falsies above my eyeliner (I always do the eyeliner first), I put a fair amount of glue. The trick is to let it dry for a few seconds before actually applying it, to ensure that the glue is sticky and wont move around once you've placed it in the desired spot. I set them slightly higher than my real eyelashes and I push them so they go up, rather than straight out. The point is to open your eyes up, so setting them too low or too droopy wouldn't do you much good.
Stage makeup is trial and error. Do a little experimenting to find out what suits your face. Ask a friend, teacher, or director to watch you from afar to see how it translates, since from a distance and with the bright lights, the entire look could change.