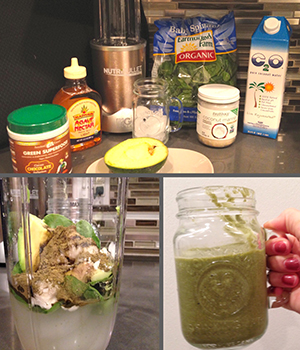 My newest favorite breakfast item is the vegan smoothie, thanks to my friend Sam, who has gotten me hooked! When most people hear the word "vegan," they associate it with the words "plain" or "gross", but I'm here to prove you otherwise.
I've been experimenting a lot with ingredients and proportions, but I am very excited about my latest creation. I like using spinach for the vitamins, but it can have a very grassy taste. I like to compliment it with avocado to give a fluffy texture and agave for sweetness. I have been also adding Green Superfood for extra vitamin and mineral supplement. As the base, I use ice and coconut water, and my secret weapon to deliciousness is coconut manam, which is essentially coconut butter.
I don't usually measure out the ingredients. I just try to keep in mind the serving size, as well as the flavor context. My word of advice is that you can always add more later!