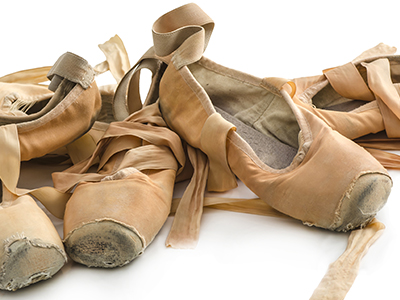 From Dance Informa
Do you remember your first pointe shoe fitting and your first pointe class? Although it was uncomfortable and unconventional, it was so magical to dance on your toes. Your shoes were shiny, new and so pretty and you felt like a real ballerina.
Finding your feet in pointe is a personal journey from how you sew your ribbons and break in your shoes to what style and brand you like to wear. Some dancers seem to transition to pointe like they were made to dance on their toes and others find it a challenge of perseverance, blisters, bunions and cramping arches or aching ankles. Any ballerina will agree, though, that no matter the pain, pointe is worth its ethereal illusion of weightlessness. Ballerinas are happiest when upon their toes.
Award-winning, young competition dancer and model Tate McRae, 12, started dancing at six and first started pointe about two years ago, at 10 and a half. "When I finally got en pointe, it was a dream come true," she exclaimed. "I am finally a ballerina," she thought.
Read the full article My Pointe Shoe Story!