Fall is in the air, and winter will be here soon. Temperatures are dropping, and for dancers that means it's time to break out the leg warmers and wrap sweaters for the season! We know that to prevent injury your muscles should be warm and ready before you dance full out, but there's no reason you can't look cute in that process. Here are some of our new favorite, and old classic warm up pieces to get you geared up and ready for those chilly winter months!
1. Every ballerina needs a pair of Bloch booties. That's just a fact! They're one of our top selling warm-up items, and that's not at all surprising. The convenient part of these shoes is that you can slip them on right over your pointe shoes between classes, or to run from studio to studio!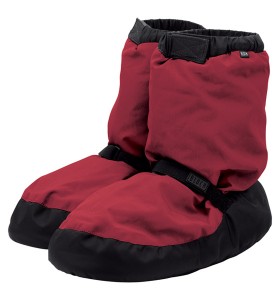 2. Simple black wrap sweaters never go out of style. They are just so feminine and elegant, we almost want to wear them outside of the studio too! You can't go wrong with this style as it fits so many different body types, and makes everyone who wears it feel beautiful.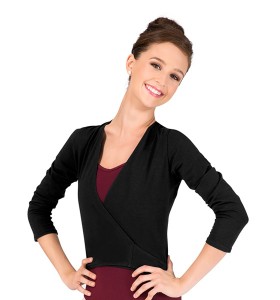 3. Trash bag pants probably look funny to nondancers, but to us they are everything! In this case, function is much more important than fashion (although we like the looks of them too). Your legs will definitely be warm and ready for big movement after a few exercises at the barre with these on!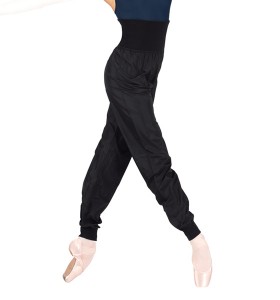 4. Shrugs are wonderful if you tend to get tight muscles around your shoulder blades and arms. Keep those muscles extra warm to prevent injury, and look super stylish in the process! We love the pretty gray color of this one too.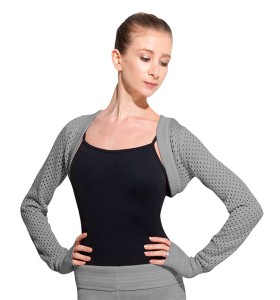 5. One of the best places to show off your personality in a ballet class with a strict dress code, if you can get away with it, is a fun and colorful pair of leg warmers! We love throwing in a pattern to your dance look to add interest to your otherwise very structured outfit, and these stripes are just so fun – especially with the extra long cut!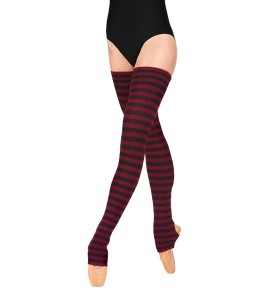 6. Looking for a new warm up booty? These are so adorable and extra comfy too! You will love the soft plush lining, and the pattern is just adorable. They are great in the studio between classes, and will be perfect during your long Nutcracker rehearsals in a big cold theatre!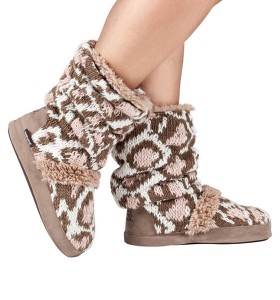 7. We are obsessed with the weight and texture of these sweater tights. They are made to be worn over your leotard, and can even be worn over other tights for extra compression and warmth. They are not footed, and have a comfy ankle elastic so they will stay put. Roll the waist down, roll the ankles up – do whatever you need to do to be warm and comfy.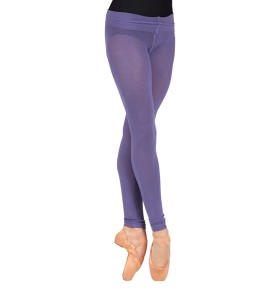 8. If you need just your hips to have an extra hug of warmth during barre, grab a pair of trash bag shorts! Your hips and buns will thank you. The elastic bands around the thighs and waist keep all that wonderful heat you are creating close to your body so you'll be ready for grande allegro in no time!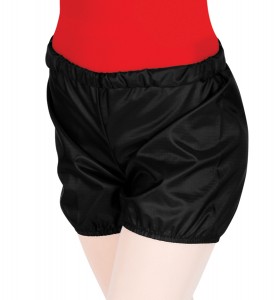 9. This sweater has the classic ballerina neck line that we so often see stolen in high fashion design! We know why too – it is stunning. Elongate your neck and warm up your torso with this lovely warm up sweater!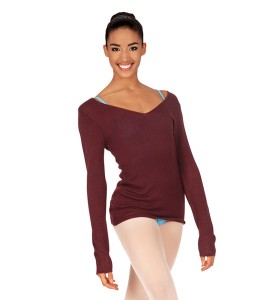 10. We love the slouchy casual look of these leg warmers. They come in a nice selection of colors too so it's fun to collect them all! You could even rock a pair in the beginning of a yoga or pilates class if you're starting out a little chilly!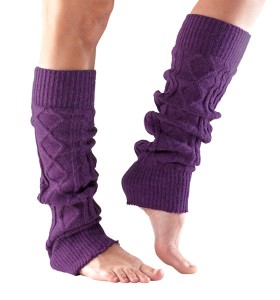 So there you have it! Our very favorite warm up looks for winter. What are your go-to pieces for the colder months of the year?