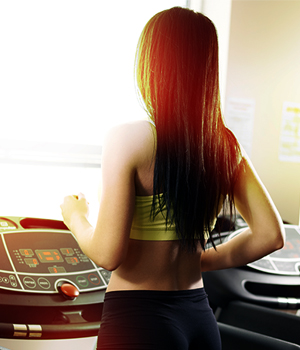 By Christina Ricucci
Even when I'm not dancing, I am always doing some other physical activity. As a dancer/athlete, it is extremely important to cross-train and to get your body used to moving in a different way and doing different exercises.
Of course, dance is the most fun and best work out to me, but there are times when a dancer needs something else, whether to recover from an illness or injury or just to mix things up. I love to go to the gym on a regular basis. I run a couple of miles on the treadmill and do a lot of core work and upper body strengthening. It is important to be aware of your body and its capabilities. Sometimes I am not aware of the high impact on my knees caused by my feet running into the ground or treadmill, but once I align my knees over my outside toes, it becomes a pain-free motion and it helps build stamina, which really helps with dance.
Another thing I love to do is yoga. Yoga is so good for dancers. Not only is it good with building strength and flexibility, but it completely relaxes your mind and body. I like hot yoga, where you do your yoga practice in a heated room and really sweat! I go to a yoga studio several times a week. It's one of my favorite things to do!
I like trying new workouts too. My studio owner got me to try a high-intensity interval training boot-camp. It was really hard but amazing! I also love to throw around the football with my dad and brother. It's great to dance around on stage in a tutu, but sometimes you just have to get dirty and play football!
Overall, I love almost any kind of physical activity. It's important to keep your body moving and energized. To me, dance, gym, and yoga are the perfect balance, but whatever you do, give your body time to recover, that way, you can be fit, and still really enjoy your summer!