What a month it's been! The last time you heard from me, I was packing up my sweaters and heading down to the hot Mediterranean for some summer fun. Heat is definitely what I got! With temperatures in the high 90's all month, I was reminded what true summer weather is like. Being from Southern California, this warm weather was a nice change!
As part of the entertainment staff on board, one of the benefits I have is the ability to go on tours with the guests. Although I have to trade in my sundresses and cute outfits for a red polo shirt and some not so flattering shorts, tours are a great way to really see and learn about each city and country I visit.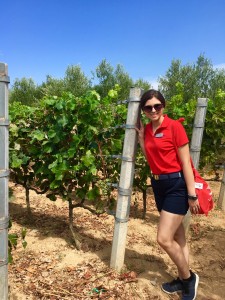 The tours are wonderful, because I get access to many exclusive places and private tours of these famous landmarks. While in Zadar, Croatia, for example, I went on a private tour through a Croatian farm and vineyard along the Dalmatian coast. There, I had a delicious meal of fresh prosciutto, cheese, olives and figs that I hand picked myself earlier in the day. While in Split, Croatia, having lunch at a private water mill in the mountains, I had an unexpected and rather famous companion join me. The President of Poland! How many people can say they've done that?
Since I am back in the Mediterranean for the second time, I've already visited all of the ports we dock in. Now I can venture out and explore on my own. I frequently stay in places like Venice, Italy, for three days at a time. These ports start to feel like a "home" port. I have to brag and say how cool I feel having a favorite little cafe in Venice. When I walk in the door, the owners know my name and start baking a Margarita pizza and a Parma Ham with Buffalo Mozzarella dish right away.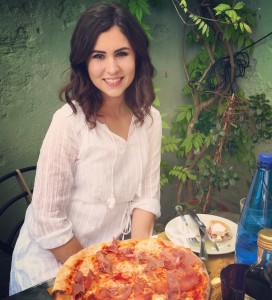 Venice is incredible, and definitely one of my favorite cities. However, the little and less well known cities like Piran, Slovenia, Valetta, Malta, Zadar, Croatia, can outshine the tourist packed places. In cities like Valetta, the integrity of the town is still retained and not overrun with souvenir shops and tourists. Places like this, make it feel like I am actually experiencing the city and not just touring it.
One of my favorite things to do when I'm out exploring, is to taste the different cuisines and delicacies of that country or city. I try and find the most authentic cafes and restaurants to eat at. I ask the waiter to order me whatever is his favorite dish or what he thinks is the best on the menu. Every time my meals have been amazing, so my experiments have been successful, so far.
I am now in love with all Greek food, after spending the day at a beautiful resort in Olympia while on a tour. I learned typical Greek dancing. I was even goaded into hopping up onto a table and dancing with one of the dancers I met there. This was one of the best days. I was so immersed in the culture and got to experience what it feels like to be Greek.  It felt great by the way!
One of the truly incredible things about working on a cruise ship, is that you really can see the world while getting paid to do what you love. I realized how lucky and fortunate I am to have this opportunity, when I visited Slovenia. I had never even heard of this country before, and now I am in love with it. I never realized how big the world really is, and how much more there is outside my dance bubble at home. As each days goes on and I get closer to my last day here, I appreciate my adventures and my life on the road even more.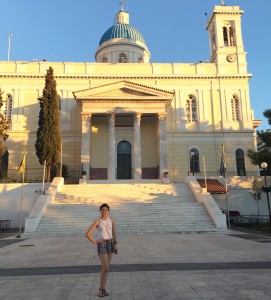 Just in case you missed them, check out Molly's previous articles here:
https://dancelife.co/my-life-on-the-road-chapter-1/
https://dancelife.co/my-life-on-the-road-chapter-2/
https://dancelife.co/my-life-on-the-road-chapter-3/
https://dancelife.co/my-life-on-the-road-chapter-4/
https://dancelife.co/my-life-on-the-road-chapter-5/