Last month I traveled to some of the biggest, most popular cities in the world.  I admired art by Leonardo da Vinci, toured the Eiffel Tower, and even saw Swan Lake in Russia. Now this month, it's off to a whole new part of the world.  As my journey on the road continues, I crossed into the Arctic Circle.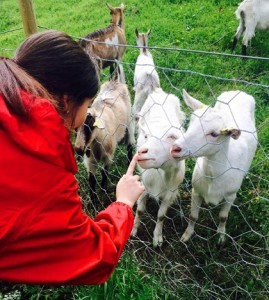 Saying goodbye to my fun dresses, shorts, and sandals, I dawned my gloves, jackets, and boots. Right now it's Norway's summer, and 30 degrees is the high! As much as I like to think of myself as a big city girl, nothing can compare to the incredible green, open scenery in Norway.  My adventurous side kicked in, and I hiked 12 miles to one of the most amazing waterfalls I have ever seen. I even took a trail that led me right behind the waterfall. The hike was grueling, but so worth it. My rest break included making some new little goat friends.
We then stopped in Scotland. Each island is so different and unbelievable!  One day I toured Queen Mary's castle in Edinburgh.  The next day I traveled out to a countryside farm and got to pet Shetland Ponies. Another huge perk this month was traveling out to Nordkapp, which is the northernmost point in Europe.  It was spectacular! Definitely not something a lot of people can say they've seen. This month has been my favorite, although each month has been better than the last. I'm looking forward to next month in the Baltic, before heading down to the Mediterranean for some warmer weather. Thanks for following my journey on the road!
Just in case you missed them, check out Molly's previous articles here:
https://dancelife.co/my-life-on-the-road-chapter-1/
https://dancelife.co/my-life-on-the-road-chapter-2/
https://dancelife.co/my-life-on-the-road-chapter-3/