This past month has been my last full month on the road. I spent the majority of the month all over Greece, which is now one of my favorite countries. Now that I've visited each port and city several times, I'm able to enjoy everything and relax a bit more.
I've continued my eight month long search for the perfect beach. With less than a month left in my contract, I think I've found it. The winner is….Corfu, Greece! The beach in Corfu, Greece is located in a village in Paleokastriksta. Beautiful is an understatement! The water is about fifteen different shades of crystal clear blue. When I swam out from the beach, I was greeted by a school of colorful, little fish. The water is crisp and refreshing, especially in comparison to the scorching heat and sun. Despite it now being fall, I've still been able to experience some rather warm weather. However, despite the heat, the Mediterranean in the fall is still quite rainy. When I was in Katakolon, Greece, I went out for some Greek food for lunch. I left the ship in shorts and sandals, as it was warm and pretty sunny. Half way to my favorite garden cafe, it started raining like cats and dogs. Stranded with no cover or umbrella, I had to trek through the flooded streets. I arrived sopping wet at the cafe, and the owner greeted me with a grin, a chuckle, and said, "Welcome to September in Greece." It definitely made for some fun memories afterwards. I dried off and enjoyed my favorite dishes. Saganaki, which is a fried cheese, is my favorite appetizer, as well as, grilled feta cheese. The bread is served with a side of Tzatziki, which is a combination of Greek yogurt, garlic, cucumber, olive oil and salt. It is absolutely incredible! For my main dish, I love to order Souvlaki, which is a chicken kabob with different grilled vegetables. While in Olympia, I took a tour that included a cooking lesson because I'm so obsessed with all Greek food. When I get back home, I'm going to attempt to recreate all of the incredible dishes that I have fallen in love with. (Key word here is "attempt"!)
This month was also my last time in one of my all-time favorite places, Santorini. I was so sad to leave, but hope to be back someday in the future. I loved wandering through the white washed streets with the vivid blue rooftops. One of my cast members and I walked around for hours shopping and just enjoying the beauty. As always, I was enjoying some amazing food. While in Dubrovnik, Croatia, I went swimming in the stunning Adriatic Sea. I spent one afternoon in Monte Carlo, where I went to the world famous Monte Carlo Casino. The architecture inside was breathtaking. Then I celebrated one of my cast member's birthdays in Athens. We went to a rooftop restaurant in the city, with a view of the Acropolis. It was incredible to see such a famous monument lit up at night. I ended my night with a wonderful firework show. It was yet another amazing moment and memory that I will always cherish. I only have the first two weeks in October, and then I leave Europe and will finally be returning home after eight months on the road.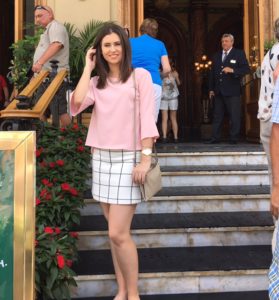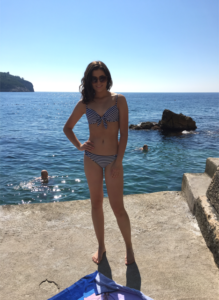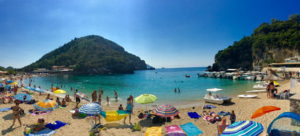 Just in case you missed them, check out Molly's previous articles here:
https://dancelife.co/my-life-on-the-road-chapter-1/
https://dancelife.co/my-life-on-the-road-chapter-2/
https://dancelife.co/my-life-on-the-road-chapter-3/
https://dancelife.co/my-life-on-the-road-chapter-4/
https://dancelife.co/my-life-on-the-road-chapter-6/
https://dancelife.co/my-life-on-the-road-chapter-7/